Climate change: Icelandic company turning CO2 to stone in bid to combat greenhouse emissions | Business News
Read Time:
3 Minute, 36 Second
.

A firm in Iceland is pioneering cutting-edge technology that turns CO2 into stone – promising a boost to the global fight against climate change and its devastating consequences.
Carbfix takes the greenhouse emissions from industrial plants and dissolves them in water, which is then injected deep underground into porous rock formations such as volcanic basalt, where it mineralises, filling the voids.
The company describes the technique as "Mother Nature's way" of carbon storage, providing a safe and permanent natural depot for the polluting gas.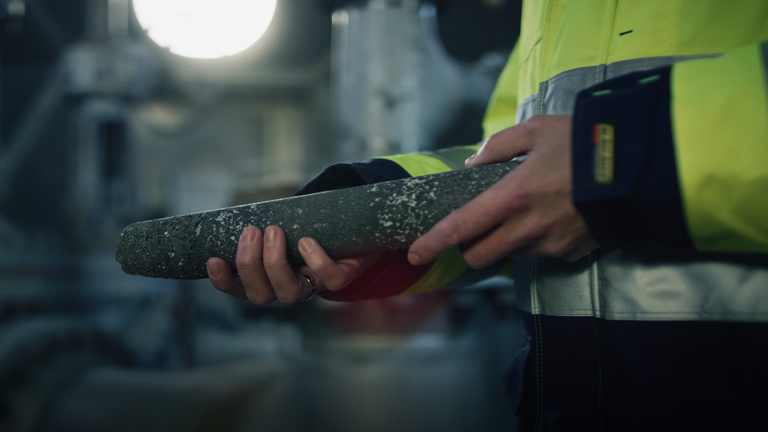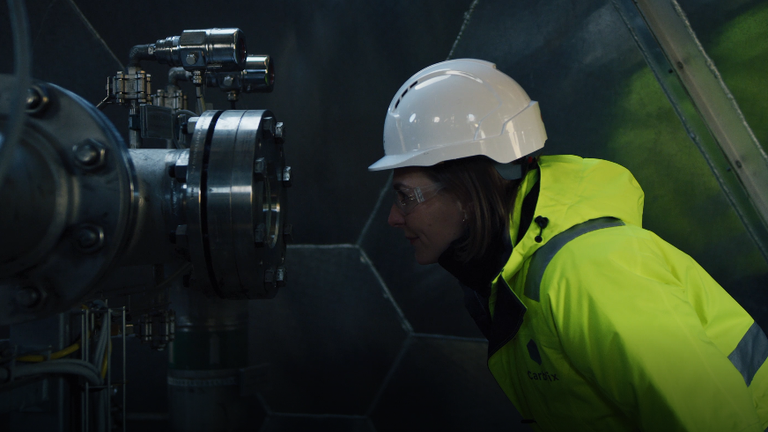 Carbfix is now looking to significantly expand its operations highlighting the potential worldwide.
The UK's climate is warming along with the global average and last year saw 40C for the first time on record – grassfires destroyed dozens of properties and there were more than 3,000 excess deaths during the heatwaves.
Speaking to Sky News, Carbfix's head of business development Kristinn Ingi Larusson described the process as "relatively straightforward and simple".
He said: "What we do is we dissolve CO2 in water and inject it back into the bedrock where it actually mineralises and stays for millennia.
"So we are therefore contributing to the climate battle issue that all of us are facing."
Mr Larusson pointed out basalt, one of the three "ingredients" needed along with CO2 and water, made up 5% of the world's landmass and 70% of the ocean floor.
He said: "The simple analogy is you are using the water as the means of transport.
"Water is the train and the CO2 is simply the passenger on the train.
"The water carries on, but the passenger jumps off the train and stays in the bedrock."
'Worryingly slow' progress on net zero

Holding up a piece of bedrock following the process showing white dots, Mr Larusson said: "These are actually solid carbons that have been mineralised and will stay there forever.
"It is Mother Nature's way of storing.
"Over 90% of all stored CO2 on earth is actually in the ground below us.
"So what we are doing, we are simply replicating what Mother Nature has done for millions of years.
"The only difference is that we are speeding the process up. We're not adding any chemicals or substances. This is simply water and CO2.
"So it's 100% safe, permanent storage of CO2."
Read more from Sky News:
Goal to decarbonise power system 'jeopardised by lack of plan'
London summers 'will be as hot as Nice by 2070' if carbon emissions keep rising
Dramatic changes to polar ice caps revealed on new map of Arctic and Antarctica
He added: "We have a solution. We don't claim this is the silver bullet, but it definitely is a technology that we should look at.
"Our objective, is to scale up and commercialise the idea."
Stressing the urgency of the situation, he said: "We don't have time. We have to act now, otherwise we are in a very catastrophic scenario."
What are the pros and cons of electric cars?

The UK's greenhouse gas emissions have fallen by 46% from 1990 levels, mainly because of the removal of coal from electricity generation.
The government has pledged to reduce emissions by 68% by 2030 but a climate watchdog this week branded the pace of action as "worryingly slow", raising concerns over the rate of decarbonisation in industry, transport, buildings and fuel supply.
The Climate Change Committee (CCC) said since the UK government was ordered to be more transparent about its net zero plans the less likely it appeared it would meet the legally-binding environmental target.
Lord Deben said his last update as chairman of the CCC was "not a report that suggests satisfactory progress" and accused ministers of wasting time by shying away from taking difficult decisions.
Watch The Climate Show with Tom Heap on Saturday and Sunday at 3pm and 7.30pm on Sky News, on the Sky News website and app, and on YouTube and Twitter.
The show investigates how global warming is changing our landscape and highlights solutions to the crisis.
.
#Climate #change #Icelandic #company #turning #CO2 #stone #bid #combat #greenhouse #emissions #Business #News

Source link