EGFR Lung Cancer in Asian People
Read Time:
4 Minute, 31 Second
.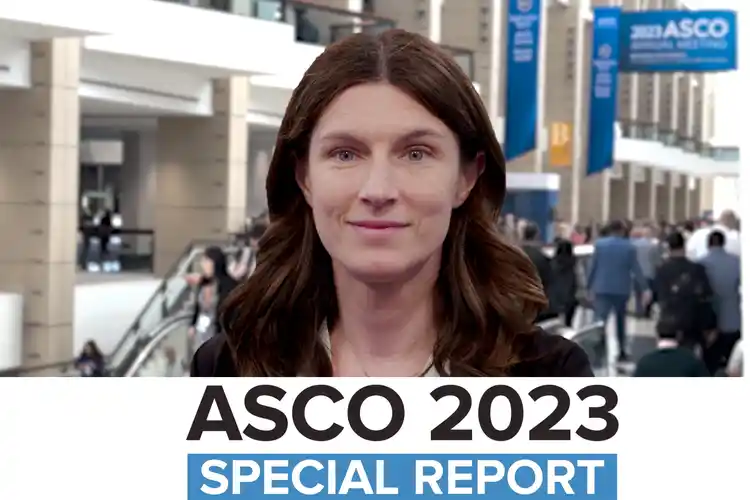 It's widely known that smoking cigarettes and having a history of tobacco use raises your risk for lung cancer. But it's not the only risk factor, according to Julia Rotow, MD, thoracic medical oncologist at the Dana-Farber Cancer Institute in Boston, MA. 
"Lung cancer can also strike those you might not expect. So those, for example, without a history of tobacco use, younger patients. And this is really where the data for EGFR mutations becomes critical," Rotow says.
Rotow is referring to the epidermal growth factor receptor or EGFR-mutated lung cancer. It's a form of cancer that largely affects young people, especially women, usually with little to no smoking history. Research also shows that this type of lung cancer is also particularly high among East Asian populations. 
"[The] rate can be as high as 50% to 60%. So it's an important subset of lung cancer to identify at diagnosis," Rotow said during the 2023 American Society of Clinical Oncology (ASCO) Annual meeting. 
EGFR is a type of protein that can be found in your regular cells and helps them grow. But if you have an EGFR mutation — a mistake within the makeup of your DNA — it can trigger the cells to multiply at a much faster rate. This can lead to cancerous tumors.  
"In lung cancer cells, that [EGFR] can be made abnormally active by having a mutation which causes it to turn on when it should not," Rotow says.
There are many types of EGFR mutations.  Depending on what information is missing or added to your DNA sequence, it can affect the kind of cancer you develop. If you have an EGFR mutation that causes cells to become cancerous, grow, and spread inside your body, experts call this a "driver mutation."
According to Rotow, EGFR is the most common type of driver mutation. For young people or people with no history of smoking who are diagnosed with lung cancer, their odds of having this mutation are "quite high." 
Knowing the exact cause of mutation-related cancer can help your doctor give you effective targeted therapy.
"Over 50% — maybe even more than 75% — might have one [EGFR driver mutation]. And these can be treated with targeted therapy pills in many circumstances," Rotow says. "It's most common in young people, young women, and in those of Asian descent."
Studies show that more than half of Asian American women diagnosed with lung cancer did not previously smoke. Among them, women of Chinese descent have a much higher risk. Up to 8 out of 10 women diagnosed with lung cancer have never smoked before.
And compared to other ethnic groups, Asian American women who have never smoked are nearly twice as likely to get lung cancer. 
"It's the leading cause of cancer death for this population," says Rotow. 
So what's the link?
In one lung cancer screening study presented by Elaine Shum, MD, from New York University at the 2023 ASCO annual meeting, over 200 Asian women under 40 who have little to no history of smoking were given three annual CT chest scans. That's an imaging test that allows doctors to take a closer look at your lungs. 
Shum found that nearly 2% of the young, nonsmoking population of Asian women had lung cancer. 
"All of the lung cancers they identified were EGFR mutated and were able to go on to receive adjuvant EGFR-targeted therapy," says Rotow. 
Adjuvant targeted therapy is a type of additional or follow-up treatment given after you've had your main treatment plan such as surgery or chemotherapy. These therapies target and wipe out the cancer cells that might have been left behind after your main treatment. This will lower the odds of your cancer coming back.
According to the current lung screening guidelines set by U.S. Preventive Services Task Force, annual tests and scans are recommended for people between ages 50 to 80 who have a 20-pack-a-year smoking history. 
"That means either one pack of cigarettes per day for 20 years, two packs per day for 10 years, and so on," Rotow says. Plus, to qualify they should smoke currently or have quit within the last 15 years. 
When you get lung cancer screening matters, too.
By doing regular lung screening, doctors can catch lung cancer early. This not only makes it more treatable but also "improves survival" rates, according to Rotow. However, the guidelines have limitations and don't always "catch everyone who might be high risk."
"For example, we know there are racial and ethnic disparities in both access to lung cancer screening and eligibility for screening based on current guidelines," Rotow says.
Moreover, there's often a low turnout for lung cancer screening. Only around 3 in 10 people sign up for the screening. 
This, Rotow says, is a "real missed opportunity " to find early-stage lung cancers that are becoming increasingly easier to treat with advanced options that can improve your overall outcome. This includes EGFR-mutated lung cancer found in high-risk, nonsmoking Asian women. 
"It speaks to the importance of not just thinking about our traditional high-risk patient population, who should absolutely get 100% screening if we could achieve it, but also these other less-common patient populations who can still benefit from potential screening strategies," says Rotow.
.
#EGFR #Lung #Cancer #Asian #People

Source link