Italy introduces surprise windfall tax on banks' interest rate profits | Business News
Read Time:
2 Minute, 29 Second
.

The Italian government has introduced a surprise 40% windfall tax on the profits made by banks from high interest rates.
Ministers said they planned to use the proceeds to help mortgage holders – but said it was a one-off levy to be applied this summer.
The announcement sent banking shares tumbling. Italy's largest chain Intesa Sanpaolo was down 8% on Tuesday morning, while rival UniCredit dropped 6.5%.
It comes following the introduction of similar taxes in Spain and Hungary – and amid calls for the UK government to do the same.
Read more from business:
Miserable weather hits summer clothes sales
Publisher Simon & Schuster sold for £1.27bn
Food prices may never fall again, chief economist warns
Italy's right-wing cabinet, which agreed to the measure late last night, has accused the country's banks of raking in record profits this year off the back of higher lending rates, while failing to pass them on to savers.
Intesa Sanpaolo said last month it expected to make more than €13.5bn (£11.6bn) this year from its net interest margin alone.
Deputy prime minister Matteo Salvini said: "One has only to look at banks' first-half profits… to realise that we are not talking about a few millions, but of billions.
"If [it is true that] the burden deriving from the cost of money has… doubled for households and businesses, what current account holders receive has certainly not doubled."
The tax will apply to the net interest margin, a measure of what income banks obtain from the gap between lending and deposit rates.
Citi analysts calculated the tax could wipe nearly a fifth off Italian banks' net income this year. Sources said the government expects to collect €3bn (£2.6bn) from the measure.
It also follows complaints from the Italian government over the European Central Bank's (ECB) decision to keep rising rates.
Inflation slowed to 6.4% in Italy last month – as the ECB hiked its benchmark deposit interest rate to 3.75%, the ninth consecutive rise in a row.
The UK government and regulators have expressed concern that British banks have also been slow to pass on higher rates to savers, but there has been no indication that ministers will introduce a similar tax here.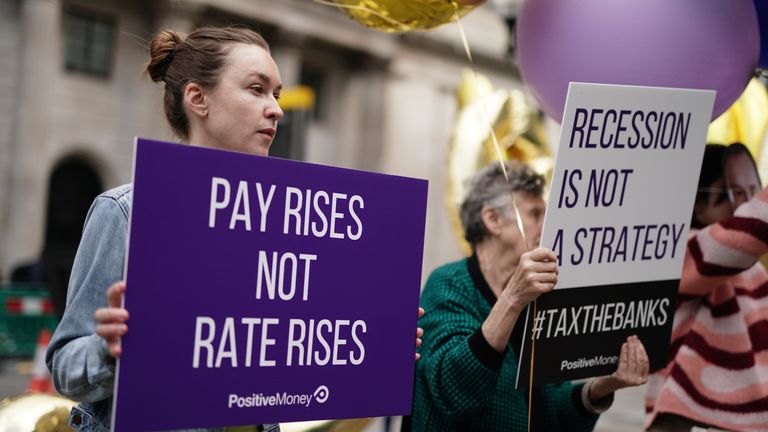 The Bank of England increased interest rates for 14th time in a row to 5.25% last week and warned rates were likely to remain high as part of efforts to bring down inflation.
The Financial Conduct Authority has warned it will "take action" against banks that cannot provide a justification for low interest rates.
Campaigners in the UK welcomed the decision by Italy's government. Positive Money, which has called for higher taxes on banks in the UK, said on social media that it was "delighted" and urged ministers to follow suit.
.
#Italy #introduces #surprise #windfall #tax #banks #interest #rate #profits #Business #News

Source link