Logistics group Shift swoops on Tuffnells brand after 2,000 jobs axed | Business News
Read Time:
2 Minute, 48 Second
.

A logistics technology business run by a 29-year-old entrepreneur has swooped on parts of Tuffnells Parcel Express, the prominent delivery company which collapsed this month with the loss of more than 2,000 jobs.
Sky News has learnt that Shift, which was founded by Jacob Corlett, has struck a deal with administrators at Interpath Advisory to buy Tuffnells' brand and intellectual property assets.
Along with a number of other parties, Shift remains in talks with Interpath about snapping up the leases to some or all of Tuffnells' 33 delivery depots around the country.
Tuffnells' collapse into insolvency threatened the future of a business serving more than 4,000 business customers and which was known for decades for its distinctive green-liveried fleet of lorries traversing Britain's roads.
The company's key customers included the likes of Evans Cycles, the retailer owned by Mike Ashley's Frasers Group.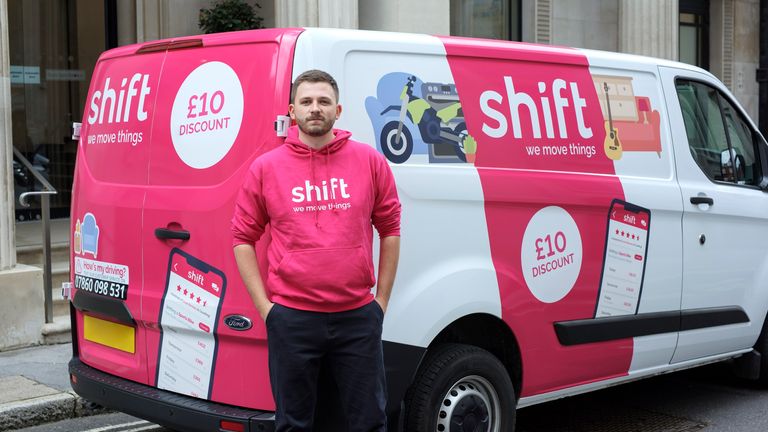 Shift's purchase of the Tuffnells brand will ensure the survival of a corporate name which dates back to 1914, when Harold Tuffnell bought a horse and cart and began delivering goods.
However, the fate of the bulk of its former workforce remains in the balance, and is likely to be dependent upon whether a new owner of its depot network can salvage the bulk of its client contracts.
Tuffnells' collapse followed severe headwinds including the COVID pandemic and its aftermath, soaring inflation and increasing competition.
The business was previously owned by Connect Group – the London-listed company which was once part of WH Smith – and was sold to Broad Oak Support Services, a turnaround investor, in 2020 for about £15m.
Shift's purchase of Tuffnells' intellectual property assets represents another step towards building a logistics tech powerhouse for Mr Corlett, who founded the company in 2017.
Its biggest clients in Britain include Homebase and IKEA.
In April, it bought Berlin-based Movinga, and says it has created "an on-demand delivery marketplace" which is technologically far more advanced than traditional logistics companies.
Mr Corlett said this weekend that he was pleased to have secured the survival of the Tuffnells name.
"Tuffnells is one of the UK's most recognisable logistics companies, which provides delivery services to over 4,000 businesses across the UK and this acquisition will significantly increase our logistics coverage across the country.
"The acquisition supports our vision for Shift's tech-driven logistics platform to disrupt both consumer and business logistics, through cutting-edge AI-driven routing decisions and driver management efficiency.
"We are also currently in dialogue with relevant parties to enable us to reopen some depots and provide re-employment opportunities."
During the year ending 31 December 2021, Tuffnells generated revenue of £178.1m, with operating profit of £2.3m, 24% up on the previous 12 months.
Shift, which is privately owned, is expected to seek further acquisitions in due course.
The identities of the other parties seeking to acquire Tuffnells' depots from the administrators was unclear this weekend.
Richard Harrison, joint administrator at Interpath Advisory, said: "We are pleased to have concluded this transaction which secures the future of one of the UK's longest-standing and well-recognised courier brands, as well helping to facilitate an opportunity for the purchaser to generate a number of jobs."
.
#Logistics #group #Shift #swoops #Tuffnells #brand #jobs #axed #Business #News

Source link