Netflix axes cheapest ad-free plan and eyes Hollywood strike impact on content | Business News
Read Time:
2 Minute, 58 Second
.

Netflix has removed its cheapest monthly plan for subscribers to watch advert-free in the US and UK, it has been revealed.
The move, which only affects new customers, emerged shortly before the latest Netflix financial results which showed steady revenue and earnings growth but projected a fall in content spending, partly due to the impact of industry strikes.
A total of 5.9 million new customer additions, likely caused by its well-publicised crackdown on password sharing, smashed Wall Street expectations of 1.9 million for the three months to the end of June.
It emerged earlier in the day that its basic £7-a-month ad-free plan would no longer be available to new subscribers.
It is part of the streaming video platform's efforts to draw more customers towards its ad-supported and higher-priced tiers under plans to grow revenue in an increasingly crowded market, particularly in the US.
The company launched a cheaper tier with advertising late last year, later moving to build its subscriber base through the curbs on sharing passwords.
Striking actor: 'It's war!'

It insisted that users who were already on the basic ad-free plan could remain, until such time as they changed plans or cancelled their account.
The decision leaves Netflix with three main price plans at a time when household budgets are strained by the effects of inflation on both sides of the Atlantic.
The second quarter results statement forecast third quarter revenue would hit $8.5bn – just shy of analysts' forecasts.
The March-June number was $8.2bn – a rise of just under 3%.
Market experts suggested that Netflix, unlike many of its US competitors, would be less likely to be affected by the strikes involving tens of thousands of actors and writers in Hollywood.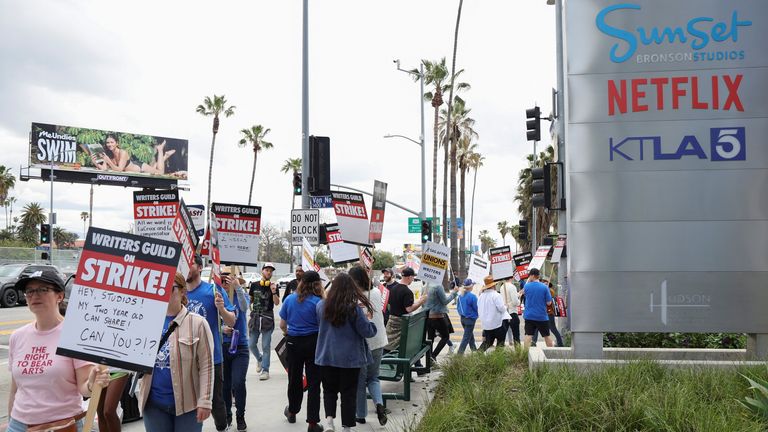 That has been put down to its global production footprint which includes major studio space in the UK.
However, the company added in a letter to shareholders: "We now anticipate at least $5bn in FCF [free cash flow] for 2023, up from our prior estimate of at least $3.5bn.
Read more:
US actors' strike: Why are Hollywood stars walking out and what does it mean for film and TV industry?
"Our updated expectation reflects lower cash content spend in 2023 than we originally anticipated due to timing of production starts and the ongoing WGA and SAG-AFTRA strikes."
The letter added: "While we've made steady progress this year, we have more work to do to reaccelerate our growth."
It pledged to create a "steady drumbeat of must watch shows and movies; improving monetization; growing the enjoyment of our games; and investing to improve our service for members."
Shares were down more than 3% in extended trading.
Sophie Lund-Yates, lead equity analyst at Hargreaves Lansdown, said of its core numbers for the second quarter: "Netflix's account sharing crackdown was an inconvenient hammer-blow for those of us who had their viewing interrupted, but it's supercharged the streaming giant's subscriber base.
"The sheer strength of Netflix's appeal means millions of people opted to set up their own legitimate accounts, where there had been concerns the move would trigger a mass exodus. In this case, it seems that not-sharing is caring, at least that's how Netflix investors will see it."
.
#Netflix #axes #cheapest #adfree #plan #eyes #Hollywood #strike #impact #content #Business #News

Source link