NHS must embrace robotics and AI to be fit for future, surgeons warn | Science & Tech News
Read Time:
4 Minute, 30 Second
.

The NHS must embrace robotics and AI if it is to make it through the current crisis and be fit to face future ones, surgeons have warned.
Waiting lists for routine treatment, let alone complex surgery, have reached an all-time high this year as the health service grapples with a backlog made worse by the pandemic.
The situation has been compounded by a series of strikes by consultants, nurses and other staff, including the first major walkout by senior doctors in decades.
Professor Naeem Soomro, who is on the Royal College of Surgeons council, told Sky News the "huge demand" for health care could only be solved through technology – especially as the NHS faces a staffing shortage.
"We can't just generate more people," he said.
"The biggest problem we face right now is access to care – and robotics, data and artificial intelligence will help the NHS respond to those challenges."
The state of the NHS explained


Robotics can 'transform bed usage'
Some NHS trusts are already at the forefront of this push.
Last year, Guy's and St Thomas' NHS Foundation Trust, which boasts the UK's largest robotic surgery programme, completed a week's worth of robot-assisted radical prostatectomy procedures in one day.
Prof Soomro, who has used the same so-called Da Vinci robotics systems at Newcastle's Freeman Hospital, said adopting the tech had "transformed bed usage".
"One of the big challenges we have is bed space – if we don't have it, it means patients simply don't have access to operations and hospitals," he said.
"Robotics lets us do three operations a day instead of one, and some patients go home on the same day.
"We do 100% of kidney, prostate, and bladder cancer operations robotically and there are opportunities to expand across other specialities and massively improve productivity."
Read more:
Health inequality grows as waiting lists near likely peak
Waiting lists are a 'national scandal', BMA chairman says
NHS crisis: How the health service in your area is performing
Meet Milton
The Da Vinci bots, which are in use at an increasing number of NHS trusts, act as an extension of a surgeon's hands and fingers, allowing for complex procedures.
Other trusts are trialling novel forms of robotics that go beyond the operating theatre.
Milton Keynes University Hospital has been using penguin-shaped androids as hospital porters, helping move paperwork and medicine across the site to free up staff time.
Now dubbed Milton, they are the work of British AI firm Academy of Robots, which previously made a self-driving vehicle used to transport medicine from pharmacies to care homes during the pandemic.
Items are packed into Milton's back, and it uses the same technologies as in self-driving cars to navigate safely and avoid crashing into objects or people. If it does get stuck, staff grab an included game remote to take control.
Chief executive William Sachiti, who showed off Milton at Goodwood Festival of Speed's Future Lab last month, told Sky News: "Some NHS staff do 10,000 to 15,000 steps a day just walking to and from wards.
"If you can have a robot that does this over and over, doesn't get tired and works 24/7, humans can be assigned to more important tasks."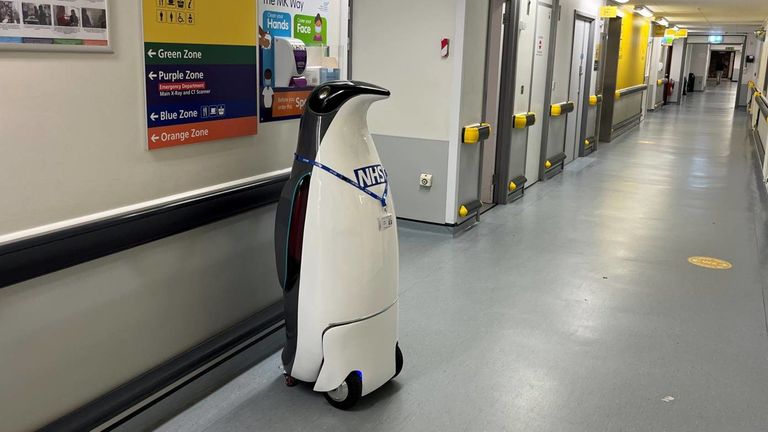 NHS staff losing time due to poor tech
It comes after a survey found UK surgeons lose an average of four hours a week due to inefficient technology.
The research by health tech firm Medtronic revealed 79% feel care would be easier if their kit was improved.
Professor Sanjay Purkayastha, consultant surgeon at Imperial College Healthcare Trust, told Sky News there's a "serious" need across the NHS to embrace modern tech, including a "completely digital medical records system".
Dr Purkayastha also lauded the potential of so-called virtual twins – 3D models of patients that effectively help doctors perform surgery ahead of time – and AI to automate administrative tasks.
A pilot study in Surrey has found AI can categorise and interpret X-rays, CT scans and ultrasounds to free up clinicians' time for patient-facing work.
The tool by Qure AI was trialled by Frimley Health NHS Foundation Trust and could differentiate between normal and abnormal chest scans with a 99.7% accuracy rate.
Darren Stephens, the company's corporate vice president, said it the NHS must embrace AI as it cannot recruit radiographers, radiologists, and doctors "at the level we need to meet demand".
Tony Blair: 'NHS not serving its purpose'

New tech 'a key part' of government's NHS plan
A government spokesperson said access to new tech that can save staff time was a "key part" of its long-term workforce plan for the NHS.
"The use of AI will improve care for patients and enable quicker diagnosis of conditions like cancer, which could be lifesaving," they said.
"It is essential that we continue to make the most of this revolutionary tech, which is why this government is investing a further £21m for trusts to roll out AI imaging tools like Qure across the NHS."
.
#NHS #embrace #robotics #fit #future #surgeons #warn #Science #Tech #News

Source link