Rishi Sunak's corporate tone on inflation risks alienating voters – who just want to know how they'll pay the bills | Politics News
Read Time:
3 Minute, 14 Second
.

In leafy South West Surrey, traditional Tory ground, we are taking the public temperature.
"It's very hard to vote Conservative at the moment", 49-year-old Penny tells us. "You just can't ignore the last two years".
This is the Chancellor Jeremy Hunt's seat (8,800 majority). Voters here are affluent, home-owning, traditional Conservatives, the sort of people the Tories cannot afford to lose; and the subject that comes up again and again: mortgages.
"I am just constantly thinking about money now, and it's even worse for the kids," one homeowner tells me who now pays £600 more a month for her mortgage.
PM claims 'we are going to get through this'; follow Politics Hub latest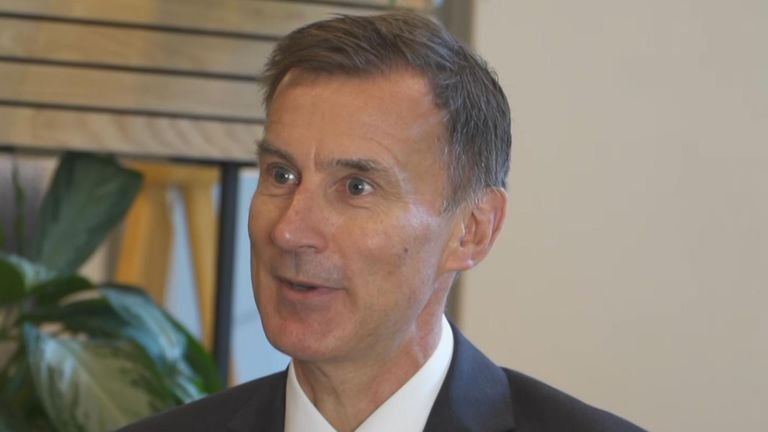 Speaking to voters in the street for an hour is not an exact science, but the mood here has undeniably turned away from Rishi Sunak, towards Labour and the Liberal Democrats.
The Labour leader wants to link the Conservatives, in particular Liz Truss and Kwasi Kwarteng, directly to the mortgage problem.
Today he said the party has "hugely damaged" the economy and "we haven't had growth for 13 years".
Sir Keir Starmer takes aim at the Tories

The trouble for the prime minister is that message seems to be resonating: there is a weariness, certainly in South West Surrey, that people feel worse off than they did a decade ago.
Today the prime minister admitted the road ahead won't be easy. He said he wants to be "honest" and "straight-talking". But is he being straight with the public when he says he will halve inflation this year?
There are plenty who think that will be a huge challenge. But the prime minister put cutting inflation at the centre of his offering to the country, he said he takes personal responsibility for hitting that target: a statement he could come to regret.
Read more:
Bank of England increases interest rates to 5%
Labour reveals five-point mortgage plan
HS2 on 'pause' at a cost of £360m to taxpayer
There is certainly no easy solution, and it's not clear Labour have the answers either: yesterday shadow exchequer secretary Abena Oppong-Asare said they'd work with the regulator and "see if there's a solution" to rising mortgage rates.
The prime minister struck a somewhat patronising tone at PMQs this week, suggesting the Labour Party doesn't understand "macro-economics", citing the OECD (Organisation for Economic Cooperation and Development), OBR (Office for Budget Responsibility) and the IFS (Institute for Fiscal Studies).
The trouble is most people don't care what those letters stand for, they just want to know how they're going to pay the bills.
'I'm 100% on it' – PM on rate hike

Rishi Sunak may be trying to pitch himself as the economist (he certainly looks comfortable talking about inflation), but his corporate tone risks alienating voters.
Speaking to Ikea workers in Dartford today, Mr Sunak did seem more relaxed, less technocratic.
He warned of pain ahead but asked the public to bear with him, he said "everything will be okay" and "we will 100% get through this".
A long-term promise that won't help people anytime soon.
The chancellor has ruled out direct support for people with mortgages, for fear of stoking inflation further, and the prime minister's message today was downbeat. They both know there are difficult times ahead.
The question is can the government turn gloom into optimism in time for the next election, and will voters be willing to hold their nerve for promise of better times ahead, and trust the Conservatives after 13 years in power?
.
#Rishi #Sunaks #corporate #tone #inflation #risks #alienating #voters #theyll #pay #bills #Politics #News

Source link