Tech experts retrieve Boris Johnson's pandemic WhatsApps from old phone | Politics News
Read Time:
2 Minute, 17 Second
.

Boris Johnson's WhatsApp messages have now been retrieved from his old phone and will be handed over to the COVID inquiry unredacted, his spokesman has said.
The probe into the government's handling of the pandemic demanded to see the former PM's messages from the height of lockdown as part of its ongoing work.
But after settling a disagreement with the Cabinet Office in the courts over whether the messages were necessary, the inquiry still did not receive the texts ahead of last week's deadline.
Politics live: Next election 'not a done deal' – Sunak
Mr Johnson's spokesperson had said the former PM was advised to keep his old phone switched off due to security concerns after it was discovered, while he was in office, that the number had been freely available on the internet for around 15 years.
But after the ex-leader got the sign-off from security services to turn the device back on, reports circulated that he had forgotten his passcode.
Now, Mr Johnson's spokesman has said "technical experts" had "successfully recovered all relevant messages from the device", meaning they could be given to the inquiry.
However, a "security check of this material" was now required by the government, so "the timing of any further progress on delivery to the inquiry is therefore under the Cabinet Office's control".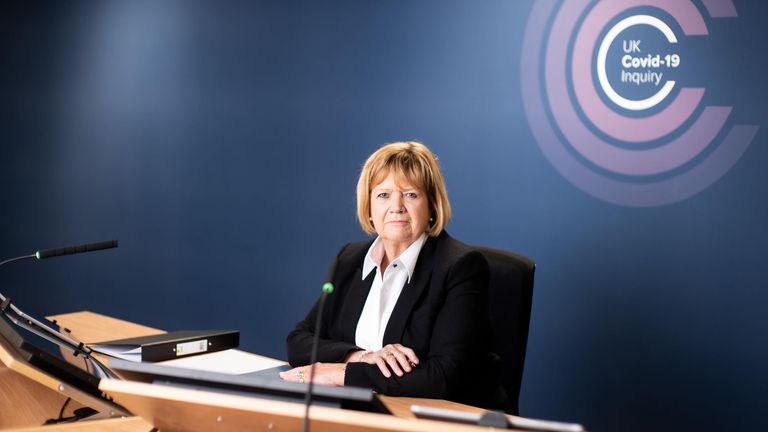 The spokesperson added: "It was always the case that Boris Johnson would pass this material to the inquiry and do everything possible to help it be recovered.
"A careful process approved by the inquiry has been followed to ensure that this was successful."
The COVID inquiry, led by its chair Baroness Hallett, used a section 21 notice to request all of Mr Johnson's unreacted WhatsApps, diaries and notebooks back in May.
But the Cabinet Office argued some of the content was "unambiguously irrelevant" and sought a judicial review against it.
PM: Govt 'cooperating with COVID inquiry'

Mr Johnson insisted throughout that he was happy to hand over the material, putting him at odds with the government's position.
However, he said the security concerns with his old phone – which he stopped using in May 2021 – meant he would have to seek advice from the security services about messages from before that date.
The High Court ruled in the chair's favour earlier this month, and the department promised to comply.
Now, it appears Mr Johnson can also hand over all the remaining material required by the inquiry.
.
#Tech #experts #retrieve #Boris #Johnsons #pandemic #WhatsApps #phone #Politics #News

Source link